Facebook, the worlds largest social media site has excellent features to make connecting and sharing with friends and family possible for a large audience.
Through utilizing some of the simple features that Facebook offers you can ensure that all of your network can enjoy all of your memories.
Make your photos accessible.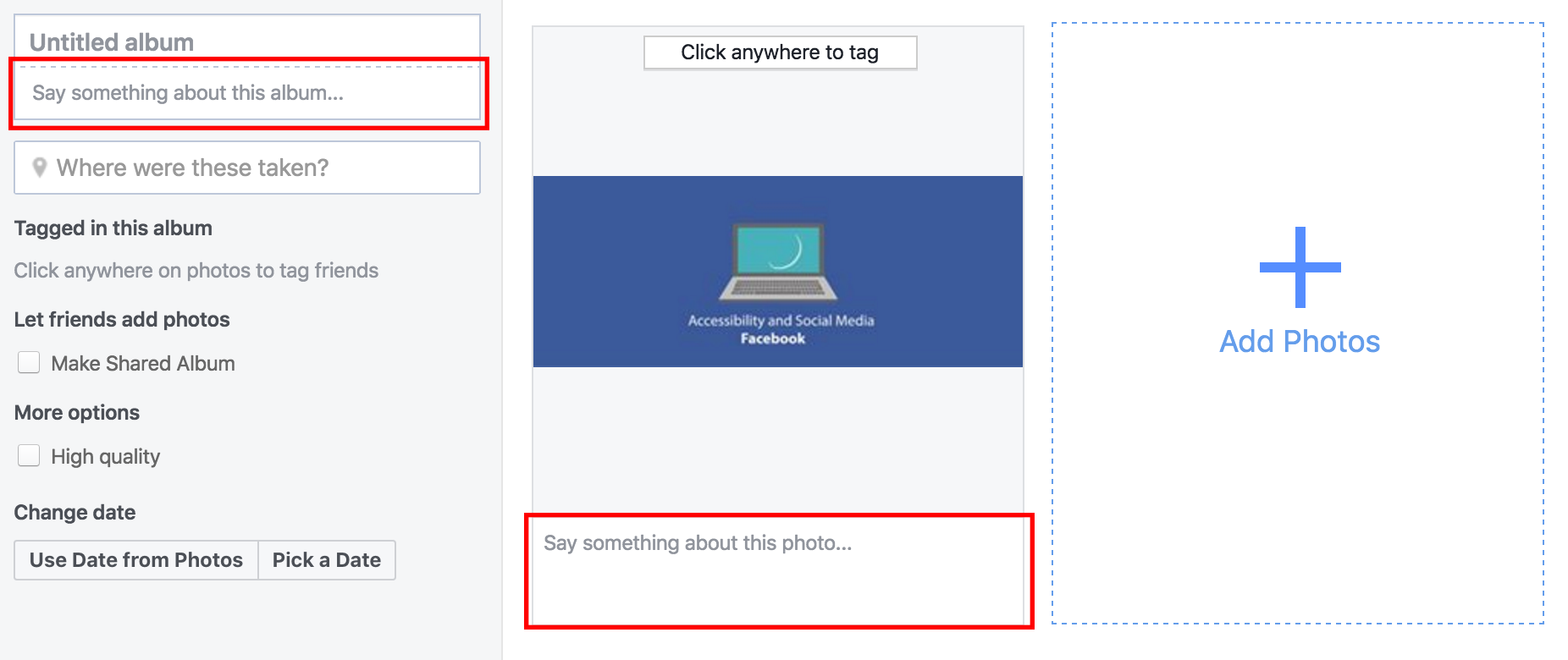 Its easy to make your memories more accessible, this can be done by adding a caption. This caption provides alt text for those who are using a screen reader.
To add a caption to your photo when you're creating a new album:
Tab to edit input
If you're using a screen reader, you'll hear, "Say something about this photo"
Type your caption
If you're not creating a new album, listen for "Say something about this photo" and enter your caption.
Keyboard Shortcuts
These are useful for users with limited dexterity and can make navigating Facebook easier and faster.
These shortcuts are completed by selecting your browser and substituting the # with the corresponding number or letter from below.
Internet Explorer for PC:Alt + #, then Enter
Firefox for PC:Shift + Alt + #
Safari for Mac:Ctrl + Opt + #
Firefox for Mac: Ctrl + Opt + #
Chrome for Mac:Ctrl + Opt + #
Chrome for PC:Alt + #
Access Keys
0 - Help
1 - Home
2 - Timeline
3 - Friends
4 - Inbox
5 – Notifications
6 – Settings
7 - Activity Log
8 - About
9 - Terms
News Feed
j and k - Scroll between News Feed stories
enter/return - See more of the selected story
p - Post a new status
l - Like or unlike the selected story
c - Comment on the selected story
s - Share the selected story
o - Open an attachment from the selected story
/ - Search
q - Search chat contacts
? - Open a list of these keyboard shortcuts while in News Feed
Adding a mobile number to make Facebook more accessible.
Some of the security checkpoints that Facebook implements can be difficult to navigate using assistive technology. Adding a mobile number to an account can make this process easier to complete.

This can be completed by adding a mobile number from your mobile settings.
For more information, visit the Facebook Page and follow @fbaccess on Twitter.
Next week we will be looking at optimising Twitter for a diverse audience.
Source: www.facebook.com/help/141636465971794/