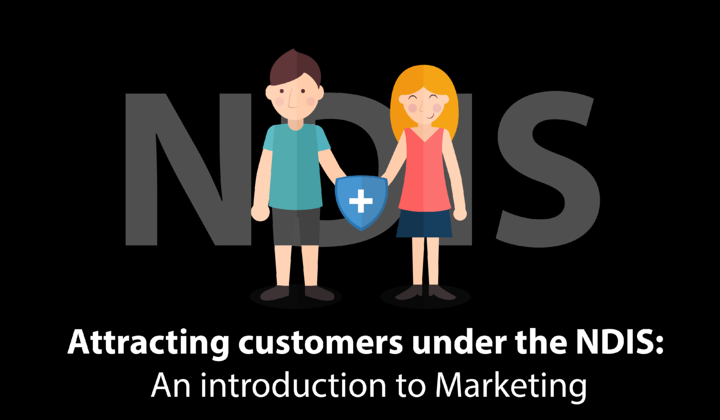 Over the coming weeks we will be exploring how the NDIS has changed the game when it comes to marketing, understanding your customers, attracting them and how to keep them coming back.
So to start a simple question; what is marketing? Most people would respond with "easy marketing is ....contemplate for a little longer and then arrive at well I'm not too sure how to explain it". It's one of those concepts that we (well at least I) find incredibly hard to explain. To me it's not dissimilar to trying to explain a colour, we all know what it is, but it's quite abstract and fleshing out the words to explain it to someone is easier said than done.
For the purpose of this blog we are going to appropriate our own meaning from the traditional marketing texts specifically for the NDIS:
Marketing under the NDIS is the process of raising awareness of the services that you offer to clients to increase business to your organisation. This definition seems simple enough, however there are inherent complications that rise from this like defining your customer and how to reach them.
Who is your customer? How do you reach them? What do you say? What are you offering?
So, who is your customer?
Funding allocation, funding levels, client allocation, these will all change under the NDIS. This is why understanding your customer is crucial. You need to ensure that you are able to create a message that resonates with them encouraging them to interact with your organisation.
Knowing that the NDIS is going to open the door to a new wave of clients, you need to understand your customer base in order to attract new prospects to your service.
In the disability sector there are many different variables that can impact on who the 'customer' is going to be. Are the majority of your clients independent, or are their parents/advocates heavily involved in the decision making process. This will have an impact on how you are going to create a message for your service to attract customers. For a parent you may want to involve information about the success rates that you have had with other clients and showcase this with testimonials.
If you are targeting a message towards the individual you may want to talk more in-depth about how you are providing individualized supports. You could also mention how the supports are going to see them excel in achieving their goals. You could also mention how your organisation differs from others in the marketplace enabling you to offer a service that it unique.
How do you find this out?
Research
The first step into understanding your customer is to create a customer persona/profile. Simply put this is a fictional representation of your customer (created through research, both primary and secondary). This is going to encompass the customers gender, age, interests, location etc.
Through creating an in-depth customer persona you are able to speak to your intended audience in a language that can be best interpreted. If you are speaking the language of the customer there is a much higher chance that they will act upon what you are saying to them.
Next week we will be looking at your organisations value proposition and how to leverage this when you are creating a message for your customers.