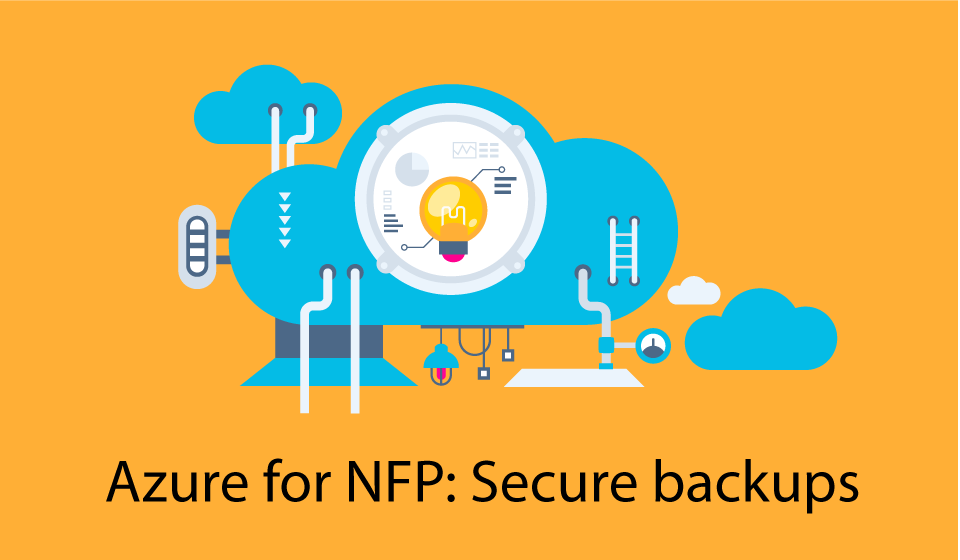 We've been talking a lot about the incredible offer that Microsoft has announced for eligible NFP in Australia over the past few weeks. (We hold a webinar each Thursday). But the resounding question we get in response after discussing the eligibility and application process is what exactly can we do with the $5000USD annual grant?
We've simplified this by breaking down the options into three sections.
Change nothing (but add some features)

Change some things

Change everything
These levels differ in complexity however with an IT partner that understands your organizational needs and goals the transition could be completed with little to no interruption or downtime experienced by your organisation.
We like to talk about the benefits that your organisation can experience in the short term and these are numerous. One of the uses for this offer that organisations could utilize with a fast turn around time and with incredible benefits would be backing up in the cloud.
Creating a backup on Microsoft Azure enables your organisation to replicate all of your data in the cloud, meaning it is available anywhere, anytime. You can think of this as your insurance policy incase something happens to your data.
We've spoken a lot about Ransomware in the past and this insidious type of Malware can bring your organisation to it's knees if it finds it's way to your servers. Enter Microsoft Azure, with a backup stored in Microsoft's secure servers you can reinstate your data quickly with minimal data loss (depending on your backup frequency).
This type of backup is an essential part of a Disaster Recovery Plan preparing you for any disaster whether it be fire, flood, robbery or virtual attack. If you don't have a DRP, I'd suggest reading this article as we discuss the importance of preparation in your organisation.
It all sounds great so let's sign up. Before you do – proceed with caution, when you apply for your annual credits, your expiry is stamped from this date. With Azure offering a suite of over 600 applications navigating what is best for your organisation isn't as simple as just signing up.
You need to have a strong understanding of your organizational goals and what you want to achieve through your technology. Discussing this with an IT provider who understands the ins-and-outs of the offer from Microsoft and your organisation will ensure that you are effectively utilizing the grant to drive your organisation forward.