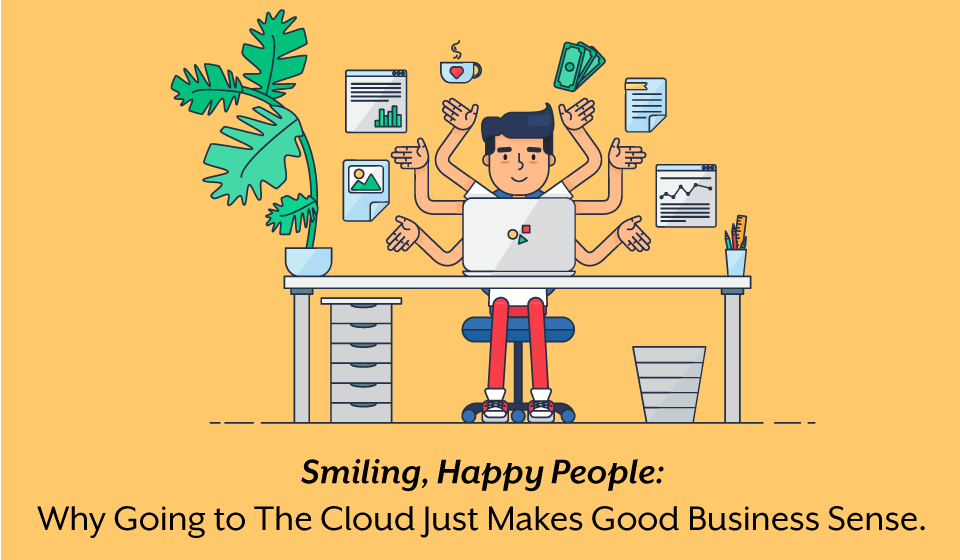 Cheerful people are almost always more productive and tend to be a lot nicer to be around, too. For any business, that's got to be a good thing (but perhaps even more so for service-oriented ones) and now, with research that shows employees equipped with Cloud technology tend to be happier, what more do you need to accelerate your Microsoft Office 365 business plans?
But first, to the research. American company Softchoice Cloud started wondering about how the massive explosion of apps, devices and services available on the internet today makes people feel. Would it be overwhelming and lead to frustration? Would it be intimidating, and cause folks to back away in horror, gently sobbing?
Or would it make people, you know, happier. As Softchoice Cloud puts it: "We commissioned a study conducted by The Blackstone Group to understand how cloud app adoption impacts the workplace engagement and satisfaction of 1,000 full-time employees in the United States and Canada. The deluge of devices and cloud apps (SaaS) into our personal and professional lives is feeding the notion that workers are overwhelmed with too much technology (aka tech overload), tipping the scales of work-life balance and ultimately making us less engaged with work."
But, says the company, "Based on the findings in our survey, we found the contrary."
'The contrary' headline findings of the study, titled 'Tech Overload is Overblown: Cloud Apps & the Happiness Effect' are that:
74% of employees who use up to 5 cloud apps say they are happy at work, compared to just 19% of non-app users

85% of employees who use 6 or more cloud apps for work feel that they have an optimal work-life balance, compared to 59% of non-app users

96% of employees who use 6 or more cloud apps feel productive at work, compared to 77% of non-app users.
More cloud, more apps equals more happy. There's even more to it, too, as the whitepaper (available for free download) shows that happiness isn't the only factor positively influenced by cloud app adoption. It points out that the survey also shows that employee productivity, job excitement and business success each trend up with increased app use. Only 30% of non-apps users claim to get excited about going to work, compared to more than 80% of staff using six or more apps.
Now, the underlying 'why should this be so' is perhaps surprising, too. One of the major reasons for people who use many apps being happier is that they are equipped with familiar tools to get their work done. If they use Microsoft Office 365 at home (highly likely, as Office 365 allows up to 5 devices to use the cloud productivity suite on one subscription), having the same software at work will – you guessed it – make work and life easier for them. And they will be happier.
Instinct and personal experience tells us that this should be so. Familiarity is almost always considered a good thing, particularly when attempting to meet tight deadlines or respond to escalating work demands. The last thing you want to slow you down is trying to find the 'save' button in your word processor.