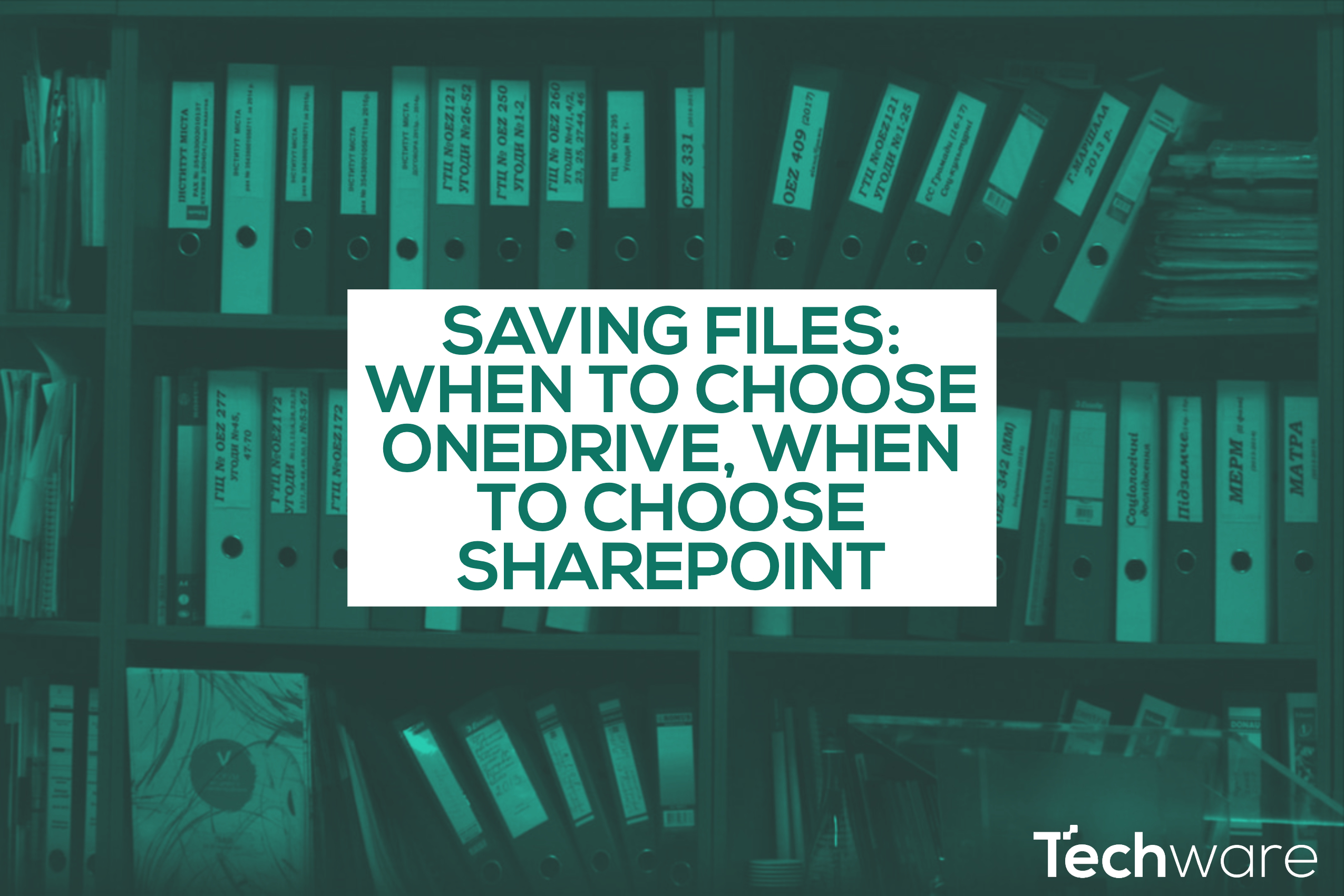 Just what should be saved where? With the proliferation of cloud services, that's a question many of us face, if not daily, then certainly at one time or another. Office 365 comes bundled with both Sharepoint and OneDrive and this guide is here to provide clarity on which is the best option depending on the type of document you're working on.
First, what are these services? OneDrive began as a cloud storage service for files and documents, providing a single online space from which everything can be accessed from any device—so multiple devices, one online storage drive.
SharePoint, on the other hand, is a collaboration (rather than storage) tool. It works like an intranet and it can be used to create portals for clients (an extranet). Where the lines get blurred is that SharePoint is also a place to store and share documents – but not for personal use. Instead, storing here is done to make that content accessible to all the people in a company who may need to read, print, or edit them.
More blurring comes from the fact that OneDrive now has sharing and collaboration features. The functions, and even the underlying purposes, of OneDrive and SharePoint are beginning to overlap.
But let's get on to which service is suitable for your purpose.
When to save to OneDrive for Business
OneDrive for Business is your "me" place at the office. Consider it in terms of File Shares: OneDrive is the new "Home Folders" for users, or the new "My Documents".
OneDrive is often mistaken for a Sync tool or the new SharePoint My Site, but that simply isn't all there is to it. OneDrive is the place you go to for your files at work, wherever they are.
Yes, you get a personal document library, but you also get an offline sync engine (recently updated), which is a way to see the files shared with you, as well as recently worked on, and it also helps you see your Team Sites and their files.
But when thinking about storing files in OneDrive for Business, we often consider the Personal Document Library within it. What documents go there?
The answer: Anything you're not sure should be worked on with a team yet, or anything you want to keep sole control over.
Bear in mind that the OneDrive for Business document library limited when compared to SharePoint's Team Site library. You can't create metadata or assign workflows.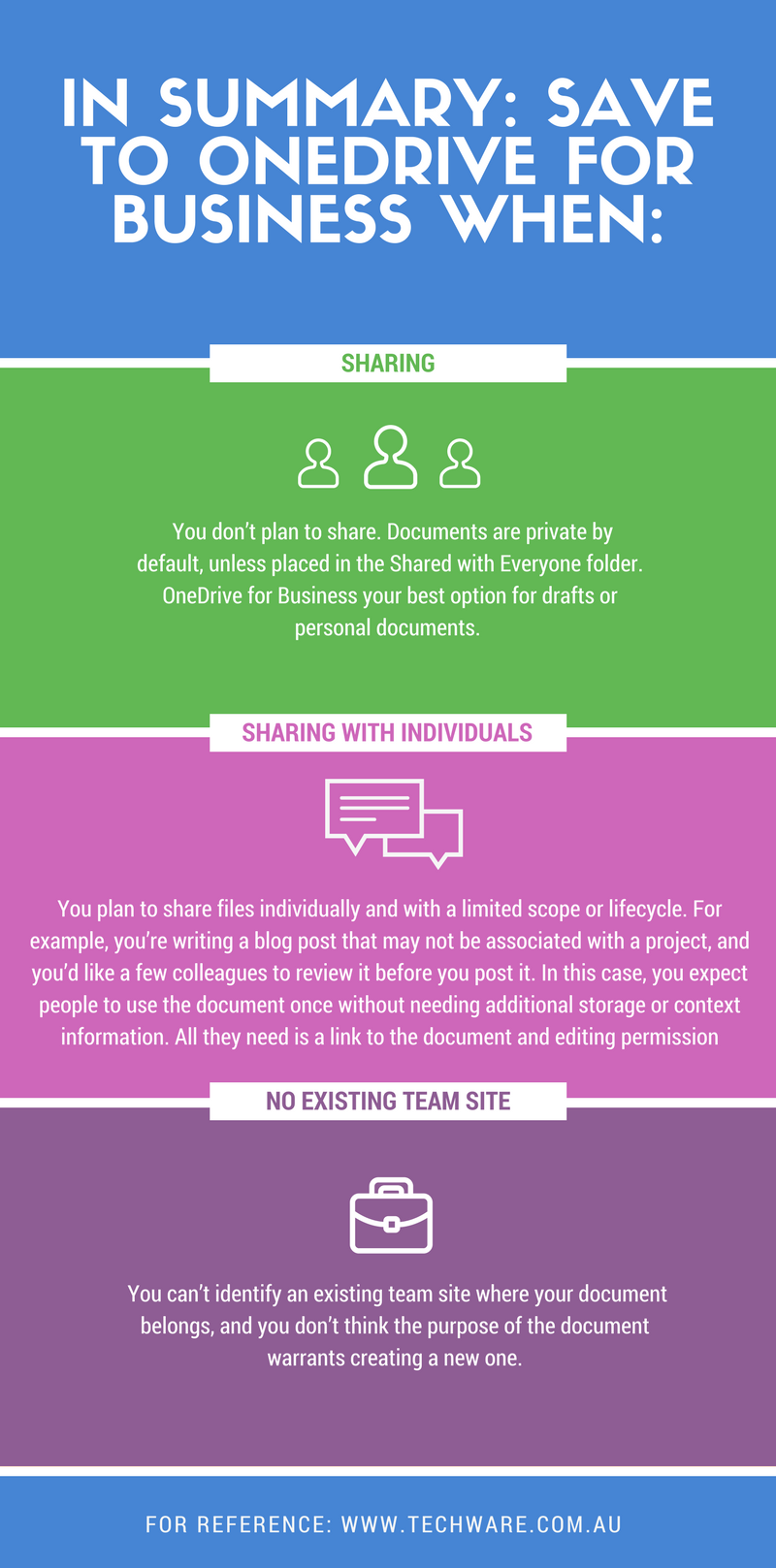 When to save to SharePoint
The SharePoint Team Site is the "we" place for you and your team. In this location, the file isn't owned or associated to one user, instead belonging to all members of the team.
SharePoint Team Sites are ideal for enterprise content management, with a simple web experience. Within a Team Site, members can create multiple lists and libraries to store their content as well as enrich it with metadata and more.
There are many features which aren't available in OneDrive for Business, such as workflows, custom views and more.
Documents owned by the team or project should be stored in Team Sites. And, of course, sometimes documents will be created in your OneDrive document library, later moving to a Team Site when appropriate.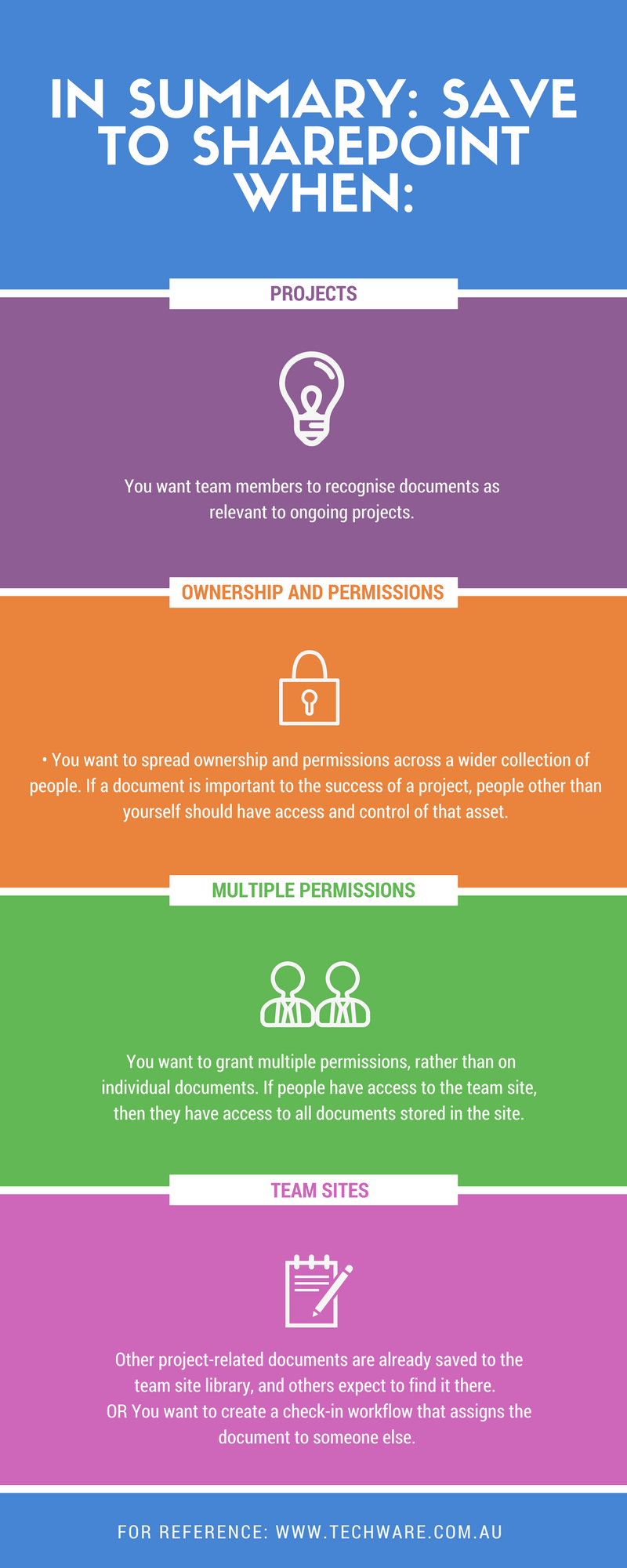 OneDrive for Business and SharePoint are solutions which, in many respects, do similar things. However, they are designed for different use-cases – and understanding what the purpose of each is makes those nuances clear and enhances the value you can get from each of them.