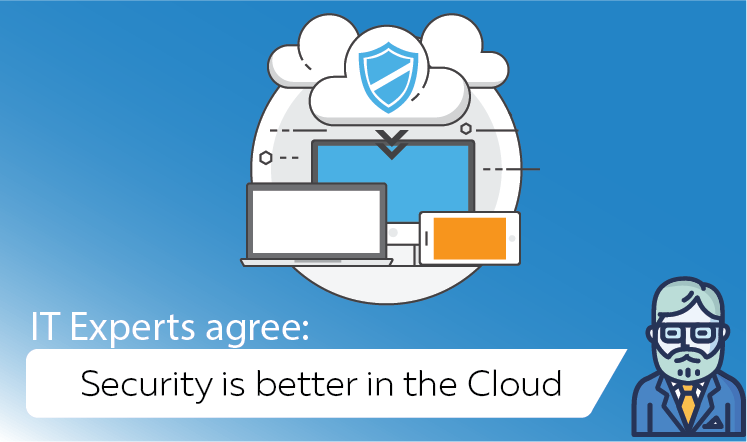 IT providers often discuss the business case for Cloud Security. While there are mountains of data available, it's always nice to see studies being conducted focused towards IT Experts and peers, around the globe.
A recent study conducted by Schnieder Electric surveyed 300 IT decision makers and security managers on their adoption of the cloud, the security benefits and their views on organisations making the move. 42% of respondents indicated that they are running security applications in the cloud and almost half of the respondents said they are likely or extremely likely to move security operations to the cloud in a few years.
"Fifty seven percent of respondents believe that the cloud is secure, with IT and technology professionals having the most confidence (78 percent), followed by education (70 percent), construction (68 percent) and financial services (52 percent). However some skeptics remain, with 18 percent of respondents indicating they do not trust the cloud."
"Nearly three-fourths of respondents said network security is an important feature for security systems in their organizations. While the state of security continues to advance, respondents indicate security systems aren't where they should be in order to adopt emerging technologies (54 percent), and despite business leaders being supportive of emerging technology (95 percent), many barriers to adoption exist.Organizational/administrative barriers such as procedures, lack of perceived value and ROI were the top barriers identified that are inhibiting organizations from achieving their security goals." -Schnieder Electric
So why is Cloud Security more secure?
Proactivity - With cloud technology being on-demand it can easily combat evolving threats through automatic updates.
Cost - Security services charge for cost, depending on the cloud solution you have a security solution may be inbuilt (like Office 365). This means that you're only paying for the services that you need.
Control - With the cloud you are in control of who has access to the documents you want others to see.
While the data shows that Cloud adoption is becoming a necessary step in forward-thinking organisations, resistance still exists in business. Whether this be organisational factors, lack of education or a fear that when the data isn't stored at a fixed physical location control is lost. The study still highlights that Cloud is the best way for your organisation to secure it's information.